ILC–USA 2012


Are We Maintaining Quality & Consistency in the Beef We Produce?





by Troy Smith for Angus Productions Inc.

 

DENVER (Jan. 10, 2012) — Factors affecting consumer satisfaction with the quality and consistency of beef were discussed during the International Livestock Congress (ILC)–USA 2012 in Denver, Colo., Jan. 10. Addressing influences attributed to cattle genetics and management was Colorado State University animal scientist Daryl Tatum, while meat scientist Derek Vote, with JBS USA, talked about processor efforts to address consumer preferences.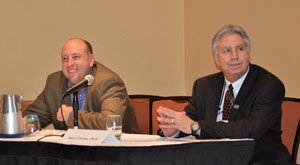 Derek Vote (left) and Daryl Tatum
photos by Kasey Miller
Referring to the national Beef Quality Audit, established 20 years ago and conducted every five years thereafter, Tatum said the first audit identified key issues. Consumers were concerned about quality. They felt beef was too fat, too tough and too inconsistent. Since then, explained Tatum, percentages of carcasses grading Choice and Prime have increased. The frequency of USDA Yield Grade (YG) 4 and 5 carcasses has stabilized and even decreased slightly.
"We're doing a better job of producing Choice beef, but the supply won't last with a shrinking herd," Tatum warned. "And with the pressure on to produce weight, we're going to see some Yield Grade 4s and 5s. I don't see that changing much. However, the big carcass issue is being addressed by fabricating differently to market smaller cuts."
Tatum noted how U.S. cattlemen raise cattle in very different physical environments, so there is need for cattle suited to different parts of the country and different resource bases. That will result in variation among cattle and the beef they produce. However, Tatum said too much variation still exists among cattle from a given region. Often, he added, great variation exists among cattle within a given lot or group. Addressing that issue should help remedy inconsistency of beef.
From the processor's perspective, Vote said development of programs for branding beef, by value, has allowed consumers to choose products for both price and quality.
"I think that has improved the consistency issue, but we receive questions about tenderness. Tenderness is a concern for some consumers," explained Vote.
For additional coverage of ILC–2012, return to the ILC index page.
Editor's Note: The above article was written under contract or by staff of Angus Productions Inc. (API). It may not be reprinted without express permission of API. To request reprint permision, contact the editor at 816-383-5200.
This section of the API Virtual Library contains event coverage provided by the editorial team at Angus Productions Inc. (API), publisher of the Angus Journal, the Angus Beef Bulletin, the Angus Beef Bulletin EXTRA and the Angus e-List. For questions about this site, to submit an article for our consideration, or to report a broken link, contact the editor at 816-383-5200; 3201 Frederick Ave., Saint Joseph, MO 64506.
API claims copyright to this website as presented. We welcome educational venues and cattlemen to link to this site as a service to their audience.