ILC–USA 2012


Top Technologies To Increase
Beef Volume and Demand





by Troy Smith for Angus Productions Inc.

DENVER (Jan. 10, 2012) — The United Nations Food and Agriculture Organization (FAO) claims global food production must double by 2050 if it is to satisfy the needs of a global population expected to exceed nine billion. Application of technology will be critical to producing a safe, affordable and abundant food supply, said speakers addressing the International Livestock Congress (ILC)–USA 2012 in Denver, Colo., Jan. 10. According to Travis Choat of Elanco and Rod Bowling of AgriFood Solutions International, the beef industry must make wise choices regarding the practices, products and genetics applied to beef production.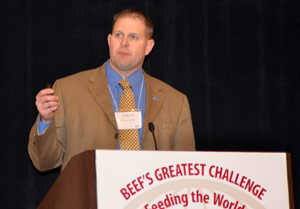 Travis Choat
photos by Kasey Miller
Choat called skillful management of capital an important practice for all levels of beef production. Practices important to successful cattle feeding will be management of terminal growth implants and hitting optimum end weights. Choat said consumers have the right to choose food produced without growth promoting technologies, but defended the use of products like beta-agonists to increase growth rate and efficiency of gain, while reducing the cattle feeding industry's carbon footprint.
Beta-agonist feed additives have been criticized as detrimental to carcass quality, but Choat insisted the products can be used when targeting production of high-quality beef.
"Beta-agonists perform consistently, which makes them something we can manage," he stated. "Careful management of days and dose allows us to manage quality grade and tenderness while improving productivity."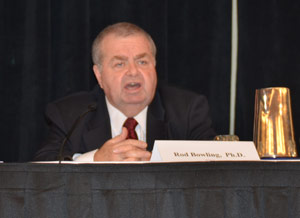 Rod Bowling
photos by Kasey Miller
Rod Bowling discussed what he termed "sentinel changes" affecting U.S. beef production. One is the increased cost of corn, which has fueled innovation in cattle nutrition and increased the need for technologies that enhance production. The other sentinel change is growing global demand for high-quality beef. Bowling cited increasing export demand for U.S. product as a contributor to the widening of the price spread between USDA Choice and Select beef.
"As the price of corn goes up and the Choice-Select spread gets wider, it increases the need for genetics that provide greater efficiency and [beef] quality."
For additional coverage of ILC–2012, return to the ILC index page.
Editor's Note: The above article was written under contract or by staff of Angus Productions Inc. (API). It may not be reprinted without express permission of API. To request reprint permision, contact the editor at 816-383-5200.
This section of the API Virtual Library contains event coverage provided by the editorial team at Angus Productions Inc. (API), publisher of the Angus Journal, the Angus Beef Bulletin, the Angus Beef Bulletin EXTRA and the Angus e-List. For questions about this site, to submit an article for our consideration, or to report a broken link, contact the editor at 816-383-5200; 3201 Frederick Ave., Saint Joseph, MO 64506.
API claims copyright to this website as presented. We welcome educational venues and cattlemen to link to this site as a service to their audience.