Managing Pain in Cattle
MANHATTAN, Kan. (May 20, 2010) — Societal concern for the humane care of food-production animals is only one reason why veterinary pharmacology researchers, like Kansas State University's Hans Coetzee, are looking for ways to better manage animal pain. Another reason is that more effective pain management could help livestock producers optimize animal performance and the economic sustainability of their operations.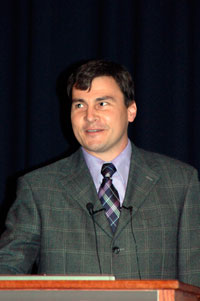 The lack of analgesic compounds approved for use in cattle in the United States represents a significant challenge, Hans Coetzee says.
Speaking before the International Symposium on Beef Cattle Welfare, Coetzee said there are no easy answers to effective mitigation of animal pain in the production environment. There are different types of pain to manage. Acute pain may be managed through local or general anesthesia or sedatives, while chronic pain may require anti-inflammatory drugs applied more specifically for control of neuropathic pain. And some procedures, including castration and dehorning of cattle, may be accompanied by both kinds of pain.
"Effective pain management requires multi-modal analgesia (pain relief)," Coetzee said. "That may require more than one drug – a combination of an anesthetic and other drugs."
According to Coetzee, the lack of analgesic compounds approved for cattle in the United States represents a significant challenge to producers. Therapeutic treatment with existing analgesics represents an "off-label" use, which may be applied only by or under the supervision of a veterinarian.
Further challenging effective use of available drugs is the delay between time of administration and onset of drug activity. Typically, inconvenient intravenous administration is required. Drug activity often is relatively short-lived, requiring repeated treatment. And drugs may also violate food residue restrictions.
The ideal analgesic drug would be more convenient to use — orally or by injection. It would be long-acting, safe for both humans and animals and would require only a short withdrawal period before treated animals could go to slaughter. The answer probably lies in using a combination of drugs.
"This is the concept of multi-modal analgesia, where we 'attack' pain perception at several points along the pathway from tissue damage through transduction, transmission and perception," Coetzee explained. "Our research goal is to identify these therapies and design effective analgesic remedies that are cost-effective and convenient for producers to use routinely."
The beef cattle welfare symposium was conducted on campus at K-State University May 19-21. For additional presentation summaries, return to the Meetings > Other Industry Meetings > News Coverage page of the API Virtual Library. For more about the symposium and an archive to the 2008 symposium, visit www.isbcw.beefcattleinstitute.org.
 
Editor's Note: This article was written under contract or by staff of Angus Productions Inc. (API), which claims copyright to this article. It may not be published or distributed without the express permission of API. To request reprint permission and guidelines, contact Shauna Rose Hermel, editor, at 816-383-5270.