Management of Neonatal Dairy Bulls
Providing alternatives for current management of dairy bull calves is a beef industry issue.
MANHATTAN, Kan. (May 20, 2010) — To be sustainable, all segments of the beef industry have to be profitable, said Guy Loneragan, epidemiologist and associate professor at West Texas A&M University. Speaking at the International Symposium on Beef Cattle Welfare, he told attendees there are two ways to increase profit: get more dollars for the product produced or decrease input costs.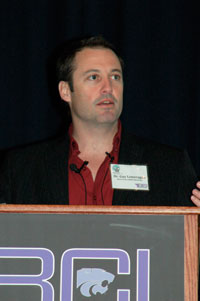 Guy Loneragan
The byproducts of the dairy industry offer the beef industry an opportunity to capture low-cost products, Loneragan noted. About 20% of cattle harvested as beef are not fed cattle, and a significant portion of those animals are culled dairy cows. About 10% of fed animals are dairy steers.
The point: "Whether we admit it or not, dairy is part of the beef industry," Loneragan said.
Several Jersey dairies have moved from California to Texas to supply a new cheese production facility, Loneragan shared, adding that the last thing they want is a Jersey bull calf. The current management solution is to euthanize those calves within a day of birth.
This isn't a welfare concern unless improper technique is used, Loneragan emphasized. The question becomes: Is it an ethical practice to euthanize an otherwise healthy animal?
Taking a positive approach toward a practice that could be a black eye to the beef industry, Loneragan said it is in the beef industry's best interest to provide alternatives. Two such alternatives include finding ways to extend the lactation period so fewer calves are required to be born and utilizing sexed semen.
The latter has been adopted by the dairy industry, but with some indirect consequences. The dairy buyout didn't have the expected effect on dairy cow numbers, Loneragan explained, because of the large number of replacements available following use of sexed semen to get heifer calves.
Loneragan, who will move to Texas Tech University July 15, suggested producers may want to consider using sexed semen to mate cows to terminal sires, such as Angus, to produce calves that could represent a positive in the beef production chain. Jersey cattle are second only to Wagyu in their ability to marble, he noted. And with smaller portion sizes becoming more popular, there may be opportunity to create pull-through demand for these bull calves.
The beef cattle welfare symposium was conducted on campus at K-State University May 19-21. For additional presentation summaries, return to the Meetings > Other Industry Meetings > News Coverage page of the API Virtual Library. For more about the symposium and an archive to the 2008 symposium, visit www.isbcw.beefcattleinstitute.org.
 
Editor's Note: This article was written under contract or by staff of Angus Productions Inc. (API), which claims copyright to this article. It may not be published or distributed without the express permission of API. To request reprint permission and guidelines, contact Shauna Rose Hermel, editor, at 816-383-5270.