Caring for Feedlot Cattle Under Roof
Feeding cattle indoors protects cattle from the elements, but producers should be observant of issues created by slatted floors and stocking density.
MANHATTAN, Kan. (May 20, 2010) — Feeding cattle indoors is a practice unfamiliar to many beef producers, as well as consumers, who typically think about cattle spending all of their lives outdoors. However, animal behaviorist and Ontario Veterinary College researcher Derek Haley believes the future may see more cattle fed under cover, at least in certain regions. During the International Symposium on Beef Cattle Welfare, Haley discussed both positive and negative aspects of indoor cattle feeding in Canada.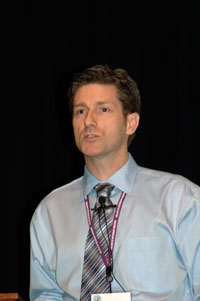 Non-slip flooring and low-stress cattle handling techniques are important to prevent injury and stress to cattle finished indoors, Derek Haley says.
Haley cited two reasons prompting development of indoor cattle feeding facilities in Ontario. One is the increasingly limited availability of agricultural land in an area of heavy human population and urban encroachment. Another issue is the climate, which typically delivers copious amounts of heavy, wet snow. Winter temperatures also vary significantly, between relatively moderate daytime temperatures and much colder nights. Cattle are more comfortable when fed under a roof, but covered facilities are expensive to build. Initial investment may be double that of an outdoor feedlot, or more.
According to Haley, approximately 600,000 head of cattle were finished in Ontario during 2009. The average finishing facility handles about 400 head per year and has some form of covered area to house cattle. Typically, calves are backgrounded in outdoor yards and are transported to covered facilities for a finishing period of up to 150 days. Roughly half of the cattle finished in Ontario come from outside the province.
Despite the fact that cattle are often commingled and transported long distances, Haley said the larger, older cattle coming into finishing barns generally experience a low rate of respiratory disease.
"The biggest health issue seems to be lameness related to time spent on slatted floors," Haley reported. "We see a higher incidence of abnormal behavior in positions cattle take when lying down. They seem to have a harder time finding a comfortable position that relieves pressure on joints and feet. Also, manure doesn't always go through the slats, so footing may be slippery and increase risk of injury."
Haley said animal density usually is greater for indoor facilities. Tail-docking of animals on slatted floors is common to prevent injury due to one animal stepping on the tail of another that is lying down. It's a practice that has been used by the dairy industry, but often is perceived as objectionable by the public.
Haley called non-slip footing and low-stress cattle handling techniques important to prevent injury and stress to cattle finished indoors. Ongoing research, he explained, is aimed at enhancing animal comfort and well-being through improved facility design. Particular areas of focus include flooring and feedbunk access.
The beef cattle welfare symposium was conducted on campus at K-State University May 19-21. For additional presentation summaries, return to the Meetings > Other Industry Meetings > News Coverage page of the API Virtual Library. For more about the symposium and an archive to the 2008 symposium, visit www.isbcw.beefcattleinstitute.org.
 
Editor's Note: This article was written under contract or by staff of Angus Productions Inc. (API), which claims copyright to this article. It may not be published or distributed without the express permission of API. To request reprint permission and guidelines, contact Shauna Rose Hermel, editor, at 816-383-5270.