Beef Cattle Welfare Considerations
on Cow-Calf Operations
While cattlemen can't control some of the factors that affect cattle well-being on the farm or ranch, they can plan ahead.
MANHATTAN, Kan. (May 20,2010) —When most people think about cow-calf operations, they visualize wide-open spaces, green grass, horse and rider and a beautiful environment. The reality is that cow-calf operations are an outdoor production system, and conditions are less than idyllic most of the year. Cattle are affected by changing weather conditions, nutrition issues and diseases.


These factors present animal welfare challenges that must be addressed at the cow-calf level, said Kansas State University faculty KC Olson and Chris Reinhardt as they co-presented to participants at the International Symposium on Beef Cattle Welfare May 20. Olson is an associate professor of cow-calf nutrition and management; Reinhardt is an associate professor and Extension feedlot specialist.


The duo identified three areas cow-calf producers must consider with respect to animal welfare: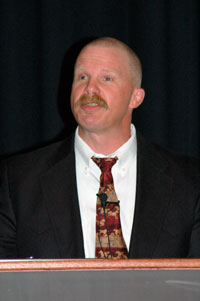 Matching cow size and biological type to the environment can improve animal well-being by helping to meet nutrient requirements, says KC Olson.
1. Nutrition. "Sub-par or malnutrition can occur when stocking rates are too heavy or too light. Both situations result in poor diet quality," Olson stated. He explained that when overgrazed, a plant only offers basal stems with little nutritive quality. Conversely, when a plant is allowed to reach reproductive maturity (i.e., a seedhead) the nutritive quality is also low. Thus, Olson said, "A moderate stocking rate allows diet quality to remain high."
Also, from an animal welfare consideration, Olson suggested that scheduling the calving season so that calving and lactation coincide with peak forage quality may be more beneficial to the animals for calf survival rates and for nutrition for the cow — while also allowing for a savings in feed costs.
"This can also extend to weaning management," he added. "August weaning rather than October allows cows to restore body condition going into the winter months. Early weaning can be a critical animal welfare intervention, especially in times of drought."
Olson also said, "The science says early-weaned calves are equally as healthy, and in some cases more healthy."
2. Genetics. Olson explained that this aspect means matching the biological type of the cow to the environment. "A larger mature cow size increases nutrient requirements, which increases maintenance costs — and can also result in bigger calves and more calving difficulty."
He gave the example of switching mature cow size from 1,350 pounds (lb.) to 1,200 lb. For a 400-head herd, that's 60,000 lb. less body weight, which means less feed, less cost, smaller calves born at birth, and the potential for greater cow longevity.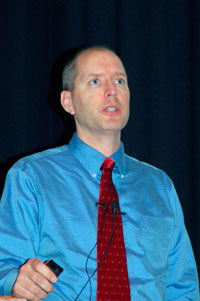 "Preconditioning is becoming an obligation," Chris Reinhardt says.
3. Health. Reinhardt emphasized that good animal health begins with the cow-calf producer preparing calves for the weaning process and trying to reduce stress.


"Preconditioning is becoming an obligation," he stated.


Reinhardt identified timely castration and dehorning, as well as vaccinations and 15 days of backgrounding as important animal care practices prior to shipping calves.


Likewise, he said, the state of health of cull bulls and cows should be considered before shipping.


Reinhardt concluded, "Animal welfare starts with nutrition, and then it is really about decision-making — when to calve, wean, market and what genetics to use. Along with those decisions, producers need to consider the weather — we can't control it, be we can manage and be prepared and make different decisions. We need to ask ourselves if we are causing some of our own problems with the choices we've made."
 
The beef cattle welfare symposium was conducted on campus at K-State University May 19-21. For additional presentation summaries, return to the Meetings > Other Industry Meetings > News Coverage page of the API Virtual Library. For more about the symposium and an archive to the 2008 symposium, visit www.isbcw.beefcattleinstitute.org.
 
Editor's Note: This article was written under contract or by staff of Angus Productions Inc. (API), which claims copyright to this article. It may not be published or distributed without the express permission of API. To request reprint permission and guidelines, contact Shauna Rose Hermel, editor, at 816-383-5270.