World Ag Expo Powers Global Agriculture


TULARE, CALIF. (Feb. 11, 2010) — The world's largest annual farm equipment show this week delivered on its promise to power global agriculture.

The show opened under rainy skies, but the weather didn't dampen the enthusiasm of show-goers seeking money- and energy-saving technology.

"The rain might have held down attendance on Tuesday but the people who stopped were serious, and I sold a unit in the first hour of the first day," said Larry Scheiler of Scheiler Harvesting. Scheiler, of Terra Bella, Calif., was showing off his Top-10 New Product, the Forklift 180 Degree Bin Inverter and generated "at least 10 good leads" for the product that sells for $6,500.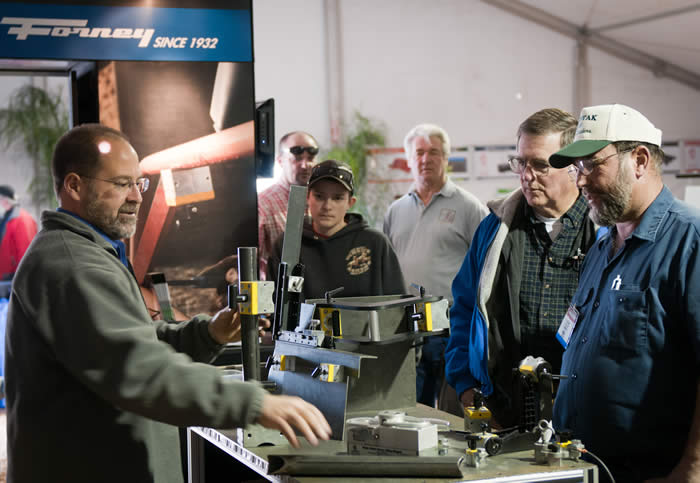 World Ag Expo also powered newcomer Humdinger Equipment of Lubbock, Texas. The company sold three units in one day and enjoyed "lots of interest" from growers throughout California as well as Canada, Minnesota, South Dakota and Michigan.

"We didn't know how big the show really is," said Scott Rundell, of Humdinger. "It turns out this show reaches lots of markets. We have a few hundred leads – no one has ever seen anything like this. We're already planning to be here next year and hoping for a larger exhibit space."

The Humdinger eliminates as many as five different implements and allows the grower to go into the field once after harvest and again just before planting – two passes rather than four or five, Rundell explained. The implement, which sells for $70,000, is in use in a variety of commodities, including rice, milo, corn, cotton, wheat and beans.

Commercial Dehydrator Systems of Eugene, Ore., called the 43rd annual World Ag Expo an "exceptional show" and Allied Storage Containers of Fresno, Calif., said "we had more sales written up on an opening day than ever before in the past five years."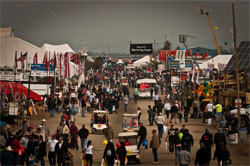 Fodder Solutions, in its second year at World Ag Expo, had another powerful success.

"We've seen people from Panama, Russia ... South Korea," said Terry Colless, "and one guy wanted all of Russia, another guy wanted Mexico. I can't go to any other show and meet these people. It's has been just crazy, crazy!"

In addition to the welcome rain on Tuesday, it rained political celebrities at World Ag Expo. Gov. Arnold Schwarzenegger toured the grounds for the third time, gubernatorial hopeful Meg Whitman made her first visit, and Secretary of Agriculture A.G. Kawamura signed a historic Memorandum of Understanding to support dairy waste-to-energy projects.

Seminars drew standing-room-only crowds to learn about topics ranging from beef production to California's water crisis to the challenges and opportunities for dairymen.

Daily giveaways made several attendees very happy – especially Robert Devalentine of Rio Oso, Calif., the winner of the Yamaha Rhino.

"I've never won anything in my life!" said the very excited winner. He plans to use it on his ranch, where he grows rice, walnuts, almonds and wheat. Devalentine is a regular attendee at World Ag Expo and has made many purchases over the years, including a double trailer and walnut haulers.

On closing day of the show, volunteer Chairman Bernie Cargle said, "It has been an honor to serve as chairman and to really see what World Ag Expo means to production farmers and dairymen globally.

"Buyers and sellers rely on this show to do business and make a profit – even more so in a tough economy. We truly do power global agriculture."

World Ag Expo 2011 will feature "Tools for Agri-Business" Feb. 8-10, under the leadership of Lee Coito. For details, visit worldagexpo.com.


 
Editor's Note: This article was provided as a news release by the World Ag Expo. See contact information following this editor's note. API claims copyright to this web site as presented. We welcome educational venues and cattlemen to link to this site as a service to their audience.
FOR IMMEDIATE RELEASE
CONTACT:
Steven Knudsen
Director of Communications
559-688-1030
steven@farmshow.org