Cattle Welfare Issues, Demonstration Featured at Texas A&M Event

Students get firsthand look at proper cattle handling, working techniques
by Blair Fannin, Texas AgriLife Extension
COLLEGE STATION, Texas (Nov. 2, 2011) — Cattle welfare from conception to harvest was of top interest recently to several hundred Texas A&M University students who learned more about proper handling of livestock from the farm to the packer.
The event was held on campus at the Pearce Pavilion and coordinated by the Texas A&M Department of Animal Science and Texas AgriLife Extension Service. The Saddle and Sirloin Club in the animal science department and the College of Veterinary Medicine student chapter of the American Association of Bovine Practitioners sponsored the program.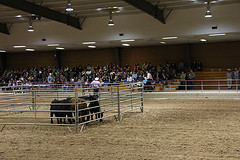 Texas A&M University students learned about cattle welfare issues from several experts recently at an event held at the Pearce Pavilion on campus in College Station. (Texas AgriLife Extension Service photo)
Animal welfare issues continue to play an important role, particularly in the livestock industry. Ron Gill, AgriLife Extension beef cattle specialist and associate department head for animal science at Texas A&M, said it's always been in the best interest of the animal and the industry to do so.
"What has changed in recent years is the public perceptions about animal welfare within the livestock industries, and the importance they place on welfare of the animals in shaping their purchasing decision," he said.
Gill, one of the event instructors, said there has always been an ongoing effort to improve animal well-being within the industries, "but it has been occurring under the radar."
"Not because anything is being hidden, but because it has always been a priority within these industries," he said. "As new technologies emerge, they have to be evaluated within commercial production systems. The same goes for changes in management and handling philosophies and techniques."
The event featured presentations and demonstrations by Gill; Bill Mies, professor emeritus, discussing cattle welfare in the feedyard; and Dan Hale, AgriLife Extension meat specialist, providing insight and a video presentation on cattle harvesting facilities.
Gill and organizers said the goal of the event was to expose students in animal science and veterinary medicine to current production practices within the diverse production segments of the beef industry.
"And we wanted to also educate them about activities currently being
implemented in the pre-harvest segments of the industry to address animal
welfare, food safety and nutritional and eating properties of beef generated
through the beef industry," Gill said.
Surveys are ongoing in entry-level animal science classes determining
students' current perceptions about animal and production management and
areas where information/education is needed, Gill said.
"If we can engage these young minds at an early point in their education
here at Texas A&M, we can stimulate them to think about ways to engage
themselves in the industry in areas they might not have considered before," he said.
Gill said programs such as the Texas Beef Quality Producer and the Beef Safety and Quality Assurance programs implemented by the Texas and Southwestern Cattle Raisers Association and Texas Cattle Feeders Association, respectively, focus on the same goal of producing a safe, nutritious product under the best handling and management programs the industry can possibly deliver.
Russell Cross, interim department head for animal science at Texas A&M, said a lot of the students come from an urban background and have little experience with understanding the process in-depth.
Gill also noted that students coming from a rural background have little knowledge about segments of livestock production beyond what they might have grown up around. He said it's important for everyone coming through an animal science or veterinarian education and training program to understand the entire production process so they can engage themselves in the industry to make it better.
"This program was an excellent opportunity to show them the importance of handling animals properly when we raise them for food," Cross said. "Drs. Ron Gill, Bill Mies, Jason Cleere and Dan Hale did an outstanding job communicating and demonstrating these valuable principles. We hope to see (this program) repeated often."
Eleanor Green, dean of the College of Veterinary Medicine at Texas A&M, said Texas AgriLife and the College of Veterinary Medicine and Biomedical Sciences are "on top of the issues important to production agriculture, and are exposing students, who represent our future, to the issues — and they are doing so together."
"In my opinion, animal welfare is among the most significant contemporary issues facing veterinary medicine and the animal industries," Green said. "Who is better than veterinarians, animal scientists and producers to lock arms to ensure that cattle receive the best and most compassionately delivered care? We are the parties responsible for setting and meeting the standards of care."
Event sponsors were AgriLife Extension, Texas Southwestern Cattle Raisers Association, Texas Beef Council, College of Agriculture and Life Sciences and the Department of Animal Science at Texas A&M.

Find more stories, photos, videos and audio at agrilife.org/today and view this story at:
http://tinyurl.com/6ela79s
 
Editor's Note:This article was provided as a news release from Texas AgriLife Extension.