Welcome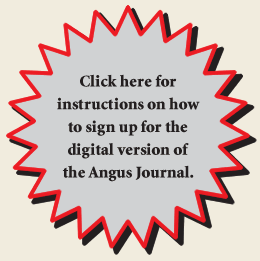 We've built quite a bank of information to assist producers in producing and marketing their cattle, organizing their businesses, participating in the American Angus and state Angus associations, and making the most of their Association membership. While the information may be available at your fingertips online, sometimes it's not easy to know where to point those fingers.
This Virtual Library is intended to provide the hub for access to many of these resources. Here's an overview of what you'll find under the pull-down menus above:
The Angus Journal provides online coverage of several industry meetings, including the National Angus Conference, the Cattle Industry Annual Convention and NCBA Trade Show, the Beef Improvement Federation (BIF) annual symposium, the Applied Reproductive Strategies in Beef Cattle (ARSBC) symposium, and the Range Beef Cow Symposium. Using the pull-down menus, you can link to the current site by clicking on the event name, or link to a past meeting by clicking on the year in the submenu. Coverage includes summaries of the presentations, PowerPoints provided by speakers, proceedings and audio as available.
Recent Updates:
We're adding a searchable archive for the Angus Journal Daily/Angus e-List under the Angus Resources Tab. Click here to try it out.
Note the "Other Industry Meetings" option. This page hosts event websites as well as post-event coverage of other industry meetings as provided by industry sources. Post-event coverage will include releases by universities and organization and some more in-depth Angus Journal coverage of events for which we don't host an event coverage site, such as the 2012 Cattle Industry Summer Conference or the 2013 International Livestock Congress.
Angus Journal topic sites are intended to provide a one-stop resource for cattlemen or other industry representatives wanting more information about a particular topic. Angus Journal staff have created regularly updated websites to further the understanding and development of international issues, beef cow efficiency, body condition scoring, country-of-origin labeling (COOL), drought conditions, and feeding and feedstuffs.
From the Angus Online pull-down menu you can access daily news from Angus Journal, Certified Angus Beef LLC and the American Angus Association; upcoming sales and events, sale summaries; AngusSource® listings for feeders and replacement heifers; and show reports available online. You can choose show results Angus Journal archived by year from 2004-2008. You can also link to the Angus Beef Bulletin and the electronic supplement to the magazine, the Angus Beef Bulletin EXTRA.
Note that Angus e-Classifieds have had a major redesign. Link to the page to review current listings of cattle, semen, embryos, real estate, equipment, horses, dogs, jobs, hay, etc. You can also price and place a listing of your own.
New Feature: We've recently added galleries of NJAA/Angus Journal photo contests. To access, use the hotlinks in the copy at left or access through the pull-down menus following Angus Online > NJAA Photo Contest.
From the "Angus Online" menu, you can also access photo galleries of National Junior Angus Association/Angus Journal photo contests. We have the winners and editor's picks for 2009, 2010, 2011, and 2012 posted. To view, choose the year from the submenu, then click on the division name to access that gallery.
We've also included some handy links to the AAA Login area and the Angus Sire Search, where you can search for Angus sires based on criteria you submit.
Use this pull-down menu for a quick link to the digital version of the Angus Journal. If you haven't yet subscribed for digital access, use the submenu for directions on how to signup for this feature of the magazine.
Want an easy way to find that article you recall seeing? Search Angus Journal and Angus Beef Bulletin back issues from the options available under the Angus Resources pull-down menu. You can search a particular issue or search for a keyword. We've also added an archive of the Angus Journal Daily, foremerly called the Angus e-List. Visit the archive to review News Updates by the day they were posted, or use the search to search the updates using key words.
The American Angus Association has a host of information compiled in the Angus Education Center, which is sure to be a site you'll want to bookmark.
We are also in the process of compiling lists of industry resources we hope you'll find useful, including central bull test stations, genomics resources, university animal science departments, animal health resources, feed and nutrition resources, ag policy resources, equipment resources, ag publications and what we've dubbed promoting rural America. By all means, if you have a website that you think we should add to our listings, please forward it for consideration by clicking here.
Included among the API Resources are links to pages featuring Angus Journal advertising, Angus Beef Bulletin advertising, website design, web advertising, sale books and brochures, API staff and board, upcoming sales, sale reports, sale books online and our V.I.P. sites.
Not sure who to contact? This pull-down menu provides access to contacts at the American Angus Association and its subsidiaries and affiliates, including Angus JournaI, Angus Genetics Inc. (AGI), the Angus Foundation, Certified Angus Beef LLC (CAB) and the Angus Auxiliary. You'll also find a link to the Association's listing of state and regional Angus associations, as well as listings for the current American Angus Association Board of Directors and a listing of regional managers.
Thank you for visiting the Angus Journal Virtual Library. If you have a suggestion for how we can make this site more useful to you, please let us know.
Editor's Note: Angus Productions Inc. (API), more commonly called the Angus Journal, is a for-profit subsidiary of the American Angus Association and serves as the Association's publications arm. It publishes the Angus Journal, the Angus Beef Bulletin, the Angus Journal Daily, and the Angus Beef Bulletin EXTRA, as well as newsletters, sale books, post cards and other projects for its customers. API provides marketing and advertising assistance through its Web Services, Creative Media and Special Services departments. For more information, visit www.angusjournal.com.